| | |
| --- | --- |
| | FRI, JUN 14, 2019 |
Buffett hopes to "get a lot of mileage" from his continuing "final tour" 
Warren Buffett "gets a chuckle out of the notion that attendance at annual Berkshire Hathaway meetings is rising along with his age," reports the Omaha World-Herald.
In an interview with the Berkshire-owned newspaper, Buffett (88) said it's like a rock band's final tour, with motivated shareholders coming to Omaha thinking "It's close to the end, right?"
Buffett said he and partner Charlie Munger (95) "can get a lot of mileage out of that as long as it lasts."
And how long is that? "I hope it's far off, I'll put it that way."
"We're having a good time. The shareholders are having a good time. We think Omaha has a good time, so we'll keep doing it."
"I'm crazy not to capitalize on that. Warren would want me to" 
Nancy Monen, a school teacher in Omaha has an advantage when she's offering to rent her home to people coming to town for the Berkshire annual meeting: it's the house Buffett and his family lived in first when they returned to Omaha after living in New York.
The World-Herald reports that a few months ago Buffett and two of his children, Susie and Howard, paid a visit and "waxed nostalgic." 
On the door to a small room off the master bedroom, Buffett signed his name and wrote: "The birthplace of Buffett Associates, May 1956."
For this May's meeting, Monen rented the house to three attendees for $3,000. The paper says she's "considering hiking the fee next year to spread the wealth to a charity."
Buffett told the World-Herald that he paid $175 a month for rent in 1956, joking that Monen "did pretty well" in comparison. 
Buffett's charity lunch moving to SF from NY
Justin Sun, the 28-year-old cryptocurrency entrepreneur who is making a $4.6M contribution to have lunch with Warren Buffett, says the meal will take place July 25 at an as-yet unnamed restaurant in San Francisco.
For the last 14 years, Buffett has hosted at his favorite steakhouse in New York, Smith & Wollensky.
The winning bid allows Sun to bring up to seven friends. He's hoping to build "a bridge" between Buffett and the blockchain/cryptocurrency industry by inviting seven of its leaders to the meal. No names have been officially announced yet. (The change in venue is likely to make their attendance much more convenient.)
Even with an 8-to-1 advantage, Sun acknowledges it will be a tough sell given Buffett's strong criticism of cryptocurrencies as an investment.
Even so, Buffett says he's looking forward to meeting Sun and his guests.
Sun told Yahoo Finance he used BitTorrent revenues to make the winning bid.  Sun's Tron cryptocurrency company bought BitTorrent last year.
Buffett's golf clubs sold for almost $40,000 at auction
Buffett's "personally-owned and -used set of golf clubs" and a customized golf bag sold for $39,671 in an auction held by Boston-based RRAuction.
According to the description, Buffett gave the clubs and bag to the unnamed seller in 2016 after the seller's own clubs were stolen. "I was engaged to his granddaughter at the time."
[Insert your own comment here.]
A-Rod joins Buffett for some ice cream
In his tweet accompanying this photo, former New York Yankee Alex Rodriguez writes it's "great to be back in Omaha to see my friend & mentor," calling Buffett "the embodiment of American values." 
Another Buffett friend says "thank you" with a video
One week after posting a very funny clip of their attempt to do a shift at Dairy Queen, Bill Gates put up another video with a "Golden Girls" style tribute to Buffett. Again, ice cream plays a major role.
BUFFETT AROUND THE INTERNET
Some links may require a subscription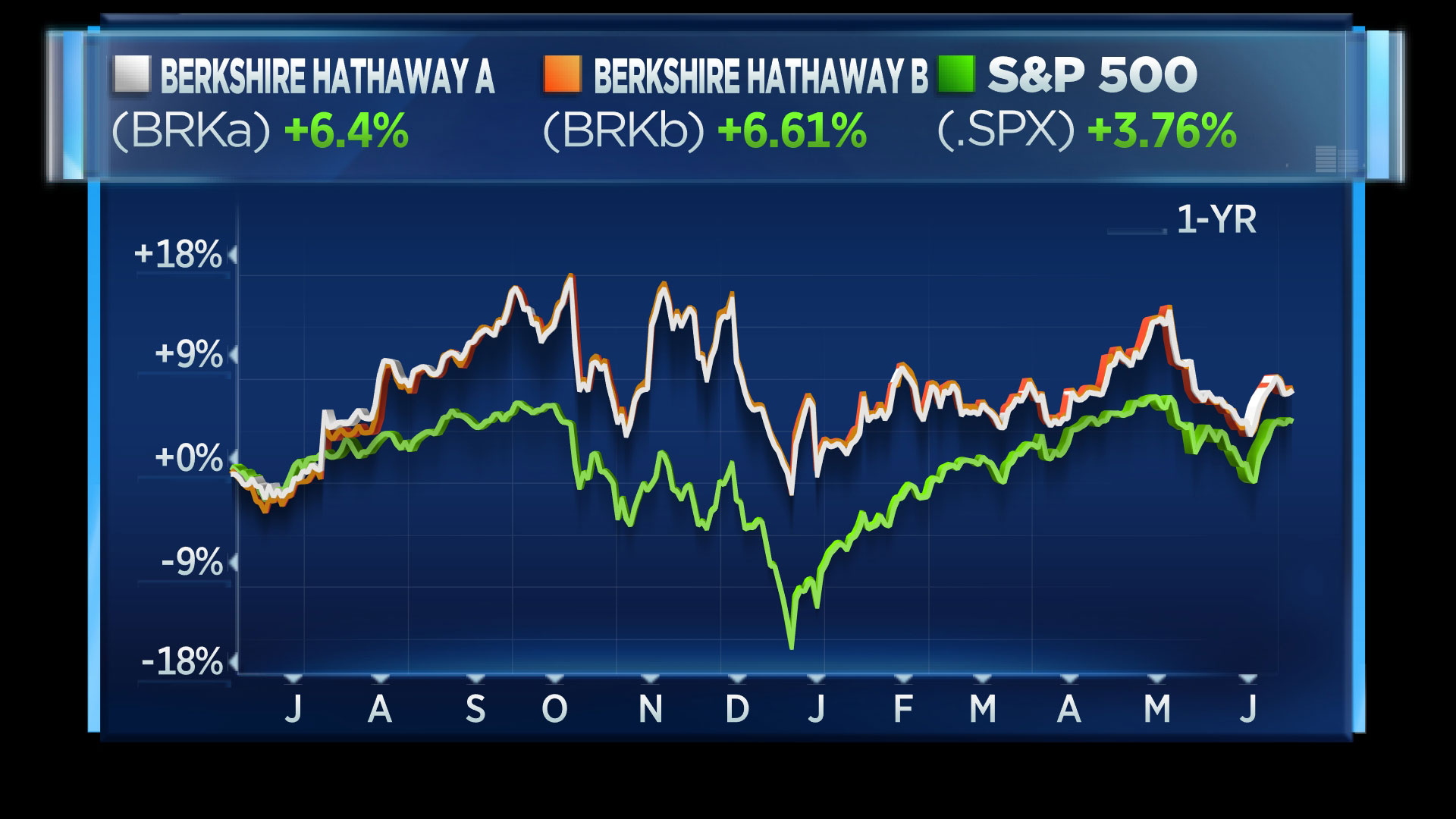 Berkshire Hathaway Class A shares closed at $308,206 Friday, up 1.7% over the previous four weeks, and up 6.4% from one year ago.
Berkshire Hathaway Class B shares closed at $205.16, up 1.7% over the previous four weeks, and up 6.6% from one year ago.
The benchmark S&P 500 index closed at 2886.98, up 2.2% over the previous four weeks, and up 3.8% from one year ago.
BERKSHIRE'S TOP STOCK HOLDINGS 
Berkshire's top stock holdings by market value, based on today's closing prices. The number of shares held is as of March 31, 2019, as disclosed in the company's May 15 13F SEC filing.
USG Corporation (USG) was listed in the 13-F filing (39,002,016 shares) but is not included in this table because the stock is no longer trading following the April completion of the company's acquisition by Knauf.
The full list of holdings and current market values is available from CNBC.com's Berkshire Hathaway Portfolio Tracker.
Please send us any questions or comments about the newsletter to us at buffett@cnbc.com. (Sorry, but we don't forward questions or comments to Buffett himself.)
If you aren't already subscribed to this newsletter, you can sign up here.