| | |
| --- | --- |
| | THU, AUG 15, 2019 |
Buffett wasn't buying or selling much this spring
Berkshire Hathaway's 13F SEC filing this week showed there wasn't much going on in the company's portfolio of publicly-traded U.S. stocks in April, May, and June. That's apparently a sign Warren Buffett didn't see anything worth buying as the markets gyrated.
One purchase that is getting some attention, partially because of the name and partially because there isn't much else to talk about: Berkshire increased its Amazon.com stake by 11%. The additional 54,000 shares are worth $96 million at today's close.
Bill Ackman, on the other hand, was buying Berkshire
In its first new stake since buying Starbucks shares last year, Ackman's Pershing Square Capital bought 3.5 million Berkshire Class B shares in Q2, now worth around $694 million. So far this year, Ackman is up 49%, a comeback from big losses over the past several years.
BUFFETT AROUND THE INTERNET
Some links may require a subscription
Berkshire Hathaway Class A shares closed at $298,066.91 Thursday, down 4.5% over the previous four weeks, and down 3.6% from one year ago.
Berkshire Hathaway Class B shares closed at $198.31, down 4.6% over the previous four weeks, and down 2.9% from one year ago.
The benchmark S&P 500 index closed at 2847.60, down 4.9% over the previous four weeks, and up 1.0% from one year ago.
BERKSHIRE'S TOP STOCK HOLDINGS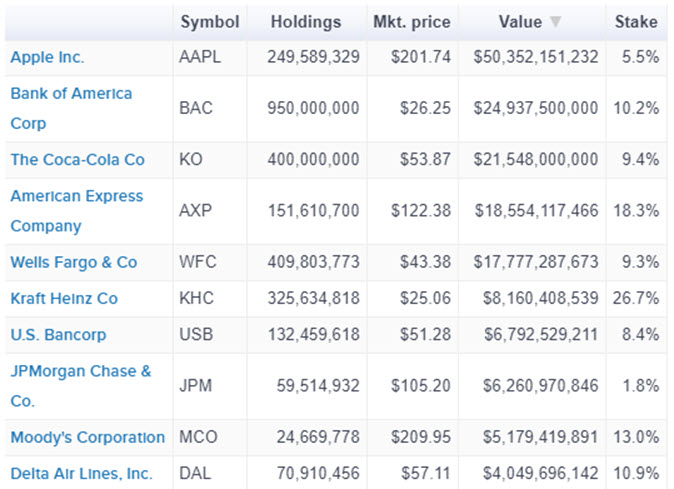 Berkshire's top stock holdings by market value, based on today's closing prices. The number of shares held is as of June 30, 2019, as disclosed in the company's August 14 13F SEC filing.
The full list of holdings and current market values is available from CNBC.com's Berkshire Hathaway Portfolio Tracker.
The Buffett Watch newsletter will be on hiatus next week. Look for the next edition on Friday, August 30 (which is coincidentally Buffett's 89th birthday.)
Please send us any questions or comments about the newsletter to us at buffett@cnbc.com. (Sorry, but we don't forward questions or comments to Buffett himself.)
If you aren't already subscribed to this newsletter, you can sign up here.