| | |
| --- | --- |
| | FRI, NOV 08, 2019 |
No shortage of suggestions for spending $128 billion
Warren Buffett's Berkshire Hathaway has a problem: too much cash.
As we detailed in Saturday's special earnings edition of this newsletter, Berkshire's Q3 operating income jumped 14% to $7.9 billion, helping to fuel a record $128 billion cash pile.
With interest rates relatively low, cash doesn't add much to the bottom line, and that's a factor in Berkshire's dramatic underperformance against the benchmark S&P 500 index this year.
Those low rates are helping fuel what Buffett considers overly aggressive private equity bids for companies, pricing them out of his budget.
Some analysts don't understand why more of the money isn't going to stock buybacks. (Berkshire bought back just $700 million in Q3.)
Morgan Stanley thinks investors "may be dismayed by minimal share repurchases in the quarter" and USB is surprised "the company has not been more aggressive with share repurchase" given "the discount to intrinsic value BRK's shares are currently trading at and its substantial excess cash balance."
At Barron's, Andrew Bary thinks Buffett should buy Walgreens Boots Alliance, the drugstore chain that is "exploring going private in what could mark the largest leveraged buyout in history," according to CNBC and Reuters.
Bary argues that with a market value of $55 billion and another $16 billion of net debt, Walgreens has an "inexpensive valuation" at 10 times projected earnings vs an 18 multiple for the overall market.
He concedes Walgreens isn't "perfect" as its retail pharmacy business faces tough competition amid additional concerns about potential disruptors like Amazon. But, Bary concludes, "it's the kind of company that probably appeals to Buffett and the price could be right."
Melissa Lee and the "Fast Money" traders also had some thoughts on why Berkshire isn't buying back more stock, and how Buffett could reduce that cash pile.
Among the possible Buffett purchases offered by the "Fast" traders:
Actual costs would be more than the market values as Berkshire would be required to pay a premium to buy an entire company.
There's a also a very good chance, of course, that Buffett will continue to feel no strong pressure to do anything, and will wait until the right deal at the right price comes along.
Toyota teaming with Buffett-backed BYD
Add Mike Piazza to Buffett's roster of sports star fans
Baseball Hall of Fame catcher Mike Piazza says he admires Warren Buffett's ability to see which companies "have good teams, and that are efficient, that are achieving things."
The former New York Met told Yahoo Finance Buffett's skills would have made him a "great baseball scout or a great baseball manager."
Piazza added when he had to make some difficult decisions about an Italian soccer team that went under during his ownership, he remembered Buffett's line: "Should you find yourself in a chronically leaking boat, energy devoted to changing vessels is likely to be more productive than energy devoted to patching leaks."
There's no indication Piazza has met Buffett, who has sometimes spoken about his friendships with Alex Rodriguez and LeBron James.
BUFFETT AROUND THE INTERNET
Some links may require a subscription
Barron's notes that Charlie Munger's Costco stake has surged to be worth $50 million. He's a director of the company.
Berkshire Hathaway Class A shares closed at $331,526 Friday, up 6.1% over the previous four weeks, and down 0.5% from one year ago.
Berkshire Hathaway Class B shares closed at $221.31, up 6.4% over the previous four weeks, and down 0.5% from one year ago.
The benchmark S&P 500 index closed at 3,093.08, up 4.1% over the previous four weeks, and up 10.2% from one year ago.
BERKSHIRE'S TOP STOCK HOLDINGS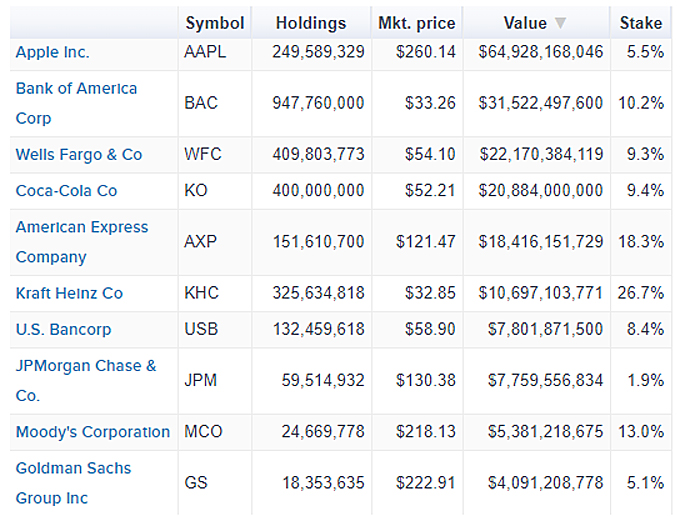 Berkshire's top stock holdings by market value, based on today's closing prices.
The number of shares held is as of June 30, 2019, as disclosed in the company's August 14 13F SEC filing, except for Bank of America, which is as of October 10, 2019.
The full list of holdings and current market values is available from CNBC.com's Berkshire Hathaway Portfolio Tracker.
Please send us any questions or comments about the newsletter to us at buffett@cnbc.com. (Sorry, but we don't forward questions or comments to Buffett himself.)
If you aren't already subscribed to this newsletter, you can sign up here.