| | |
| --- | --- |
| | FRI, FEB 28, 2020 |
Warren Buffett: Seven ways to say, "Don't panic!"
When Warren Buffett was live on CNBC's "Squawk Box" Monday morning, he said he was happy stocks were set to open with a 3% drop. Fears a coronavirus pandemic could severely slow the global economy had many investors looking to sell.
If he was happy Monday, he must be ecstatic tonight.
Stocks dropped sharply every day this week, including two days of 1000-point-plus losses for the Dow.
At tonight's (Friday) close, it was the worst week for the Dow (-12.4%) and S&P (-11.5%) since the 2008 financial crisis. The Dow is off 14% from its record high, while the S&P has lost almost 13% from its high set in late February.
On paper, the market value of Buffett's Class A Berkshire shares fell from $89.1 billion at last Friday's close to $80.2 billion tonight. The week's cumulative loss, shown here in red, is $8.9 billion, or 10.0%.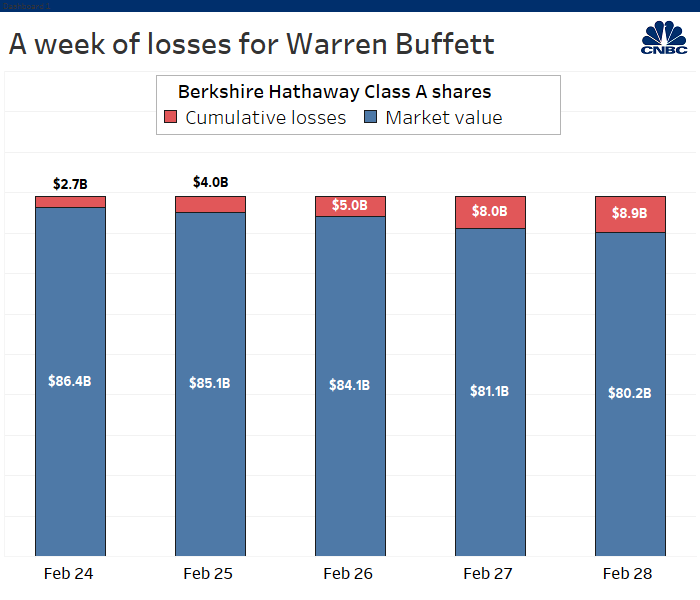 But "paper" losses are fairly meaningless to Buffett because he won't be selling those shares anytime soon (although he will be gradually giving them away over a number of years.)
Many of us may not feel the same way when we look at our portfolio statements.
Buffett, however, thinks savers — people who are buying stocks for the long-term — should share his joy. And even if they're not feeling it, they definitely should at least remain calm and resist the urge to sell.
In this newsletter-only Buffett Archive video, I've put together the seven different ways Buffett said, in effect, "Don't panic!" in his three-plus hours on CNBC Monday morning.
Buffett: Coronavirus could reduce attendance at May meeting
While the threat of coronavirus isn't affecting Buffett's investing decisions, it could have an impact on Berkshire's annual meeting in early May.
Buffett tells the Omaha World-Herald, "It really depends upon the psychology of the moment. If people are worried about travel in late April, you can be sure it will affect attendance."
In recent years, as many as 5000 people have been coming to Omaha from China, where Buffett is very popular. He thinks that number could be greatly reduced due to the coronavirus crisis there. And he notes that those reluctant to make the trip will have an alternative, since the meeting is available as a live stream in Mandarin on Yahoo.
The mystery of Buffett's missing bitcoin is solved
You didn't see this on TV: Buffett tells how he tried to trick Bill Gates
After his live appearance on "Squawk Box" Monday, Buffett and Becky recorded a short "extra" audio interview for the "SquawkPod" podcast.
In this excerpt, he describes how he tried to trick Bill Gates, and others, with an unusual set of dice.
They also talked about Buffett's experiences with podcasts. He lists a few he's enjoyed, and one hypothetical pod he'd listen to again and again.
Along with SquawkPod's super-sized Buffett program Monday, the podcast has been featuring Buffett all this week.
Every day, it includes news-making interviews, analysis, debate and discussion, all wrapped with context from Senior Producer Katie Kramer.
You can listen and subscribe wherever you get your podcasts, including Apple, Spotify, Stitcher, and Google Play.
BUFFETT AROUND THE INTERNET
Some links may require a subscription
BERKSHIRE'S TOP STOCK HOLDINGS
The market value of Berkshire's top 10 holdings, as shown here, is $175.0 billion. That's a 14.0% drop from last week's $203.4 billion. The benchmark S&P 500 stock index fell 11.5%.
Berkshire's top stock holdings by market value, based on today's closing prices. The number of shares held is as of December 31, 2019, as disclosed in the company's February 14 13F SEC filing.
The full list of holdings and current market values is available from CNBC.com's Berkshire Hathaway Portfolio Tracker.
Welcome to all of you who are new to this newsletter. We had a big jump in the subscriber list this week. I'm honored you're giving it a try.
Please send any questions or comments about the newsletter to me at alex.crippen@nbcuni.com. (Sorry, but we don't forward questions or comments to Buffett himself.)
If you aren't already subscribed to this newsletter, you can sign up here.
-- Alex Crippen, Editor, Warren Buffett Watch