| | |
| --- | --- |
| | SAT, SEP 05, 2020 |
Berkshire cuts its Wells Fargo stake to 3.3% ... so far
In an SEC filing late Friday afternoon, Berkshire Hathaway revealed it cut its stake in Wells Fargo to 3.3% of the bank's outstanding shares.
At the end of June, Berkshire held a 6.0% stake. Between then and August 14, it sold around 109 million shares, valued at $2.7 billion as of Friday's close.
Since the end of last year, when it had an 8.4% stake with almost 346 million shares worth $18.6 billion, Berkshire has dumped more than 209 million shares, a reduction of 61% in share count.
With help from a 54% year-to-date drop in WFC's share price, the market value of Berkshire's stake has dropped 82% to less than $3.4 billion.
It's a dramatic, if not sudden, reversal for Buffett, who began investing in Wells in 1989, but began to reduce the holding in 2017.
Just a few years ago, the value of Berkshire's stake topped out around $32 billion.
At the 2009 Berkshire annual meeting, he said, "Wells, among the large banks, has, by far, the best competitive position."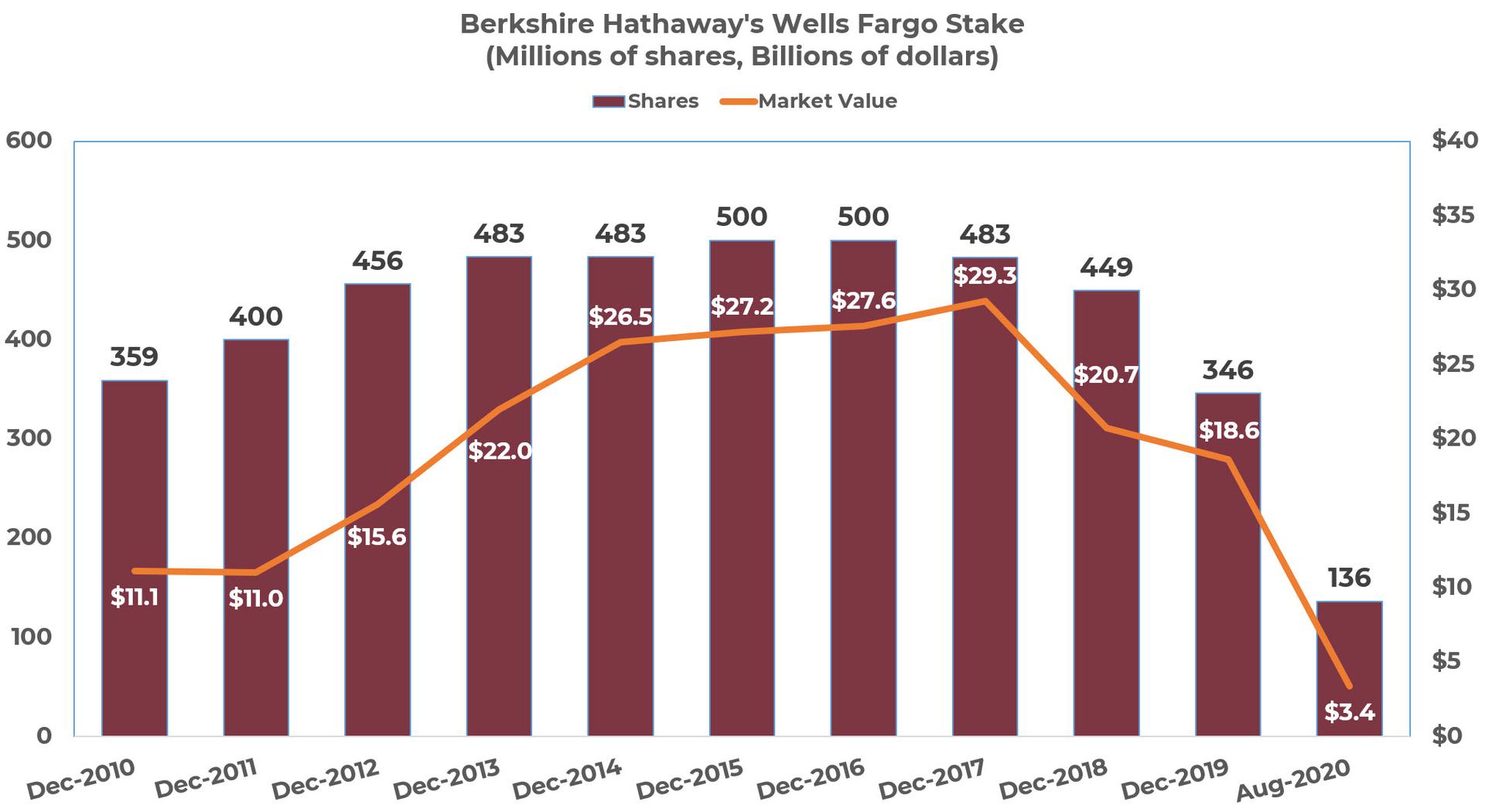 While Buffett criticized the bank's management for not reacting more quickly to its account fraud scandal that emerged in late 2016, at the 2018 meeting, he said he still "liked it as an investment."
Usually, we only learn what Berkshire has been doing with its stock portfolio once every three months in the SEC-mandated 13F filings. But because the latest sales brought the WFC stake below 5%, an interim disclosure was required.
Once it went below 5% on August 14, Berkshire could keep on selling without telling anyone.
When he was talking at this year's annual meeting about his decision to sell all of Berkshire's airline stocks, he said, "When we sell something, very often it's going to be our entire stake... We don't trim positions ... any more than if we buy a hundred percent of a business, we're going to sell it down to 90 percent or 80 percent."

So it's entirely possible, perhaps even probable, Berkshire has sold the remaining WFC shares by now or is planning to do so in the near future.
We probably won't find out until mid-November when we get the portfolio snapshot as of September 30.
Buffett goes big in Japan
Reuters notes that with "significant exposure to the energy sector and resource price volatility, (and) tangled business models involving commodities as varied as noodles and rockets," Japan's trading companies have "long been far from investor favorites."
But, it adds, of the five, only Itochu's market value is larger than the value of its assets.
The other four are trading below book value, and several of them have a lot of cash, making them "attractive to a value investor like Buffett."
The move is also a step toward diversifying away from the U.S. economy and Berkshire's largest stock holding, Apple.
"I think this is a definite signal that Berkshire is more likely to examine and pursue potential investments internationally," University of Maryland finance professor David Kass told Bloomberg.
"A person that I admire as well as like"
Bill Gates had a lot of nice things to say in a blog post about his friend Warren on his 90th birthday last Sunday.
Along with praise for Buffett's "unshakable sense of right and wrong" and his "phenomenal eye for talent," Gates wrote:
"Warren has the mental sharpness of a 30-year-old, the mischievous laugh of a 10-year-old, and the diet of a 6-year-old. He once told me that he looked at the data and discovered that first-graders have the best actuarial odds, so he decided to eat like one. He was only half-joking."
So Gates made a short but sweet video in honor of Buffett's "dietary preferences."
BUFFETT AROUND THE INTERNET
Some links may require a subscription
BERKSHIRE'S TOP STOCK HOLDINGS - Sept. 4, 2020
Please send any questions or comments about the newsletter to me at alex.crippen@nbcuni.com. (Sorry, but we don't forward questions or comments to Buffett himself.)
If you aren't already subscribed to this newsletter, you can sign up here.
-- Alex Crippen, Editor, Warren Buffett Watch